Stuffed Meatballs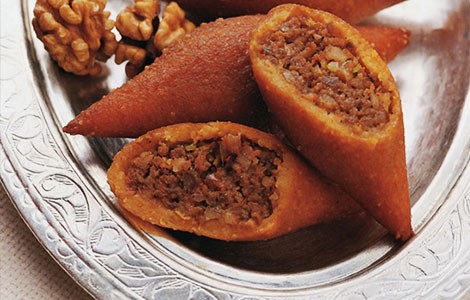 Materials
For the dough:
• 3 cups fine bulgur (ie, fine bulgur)
• 1-2 eggs (2 eggs may be required according to the thickness)
• 1 cup of flour (not to the hills)
• Half a tablespoon of chili paste,
• Half a tablespoon of tomato paste,
• Salt,
• Red pepper flakes,
• Pepper.


For the filling:
• Half a kg of beef,
• 50 g butter,
• Half a cup of tea, oil,
• 2 large onions,
• 1 tablespoon red pepper paste,
• 1 tablespoon tomato paste,
• 1 cup walnuts (coarse crushed),
• Salt,
• Red pepper flakes,
• Black pepper,
• Cumin,
• 1 pinch of parsley.


Stuffed Meatballs Preparation
For filling; Doğrayal onions finely.
It Kiyal parsley finely.
He kavural mince until there is water.
On butter, vegetable oil and let the additional roast.
Then let's add onion and roast.
Then paste, coconut, salt and spices and let roast.
Finally, stir in parsley, mingle, and I leave to cool in the fridge. (Inner material thoroughly get the donor would flow later oils)
For the dough; Let's put on a coarse bulgur and Drizzle over warm water, wait until the swelling.
Then the eggs, flour, tomato paste, salt, and let thoroughly yoğural added.
Gezdirel warm water and my ıslayal on our hands while kneading occasionally.
Let's continue to knead until the dough like consistency of putty. (Even my mother-dough in the evening and makes the bottle up until the morning findings will swell and become more viscous) KOPARAL lemon sized pieces from the dough.
Round and middle finger pointing to be opening our jobs, I inceltel.
Then I put a tablespoon of minced mortar.
Let the ends of middle round way and manner by removing the excess will be sharp. (My ıslatal our hands when performing this operation with cold water that are sticking our hands)
Arrange them on a tray, we prepare the meatballs, the Let's cover them with a damp cloth. (Meatballs to the friability)
Angry and abundant oil Grease meatballs on paper towels and let boil in salted water or the service we do.
Stuffed Meatballs Let our warm friendly service.

NOTE : Put into freezer bags without any transaction giving way to those who want the meatballs can store it in the freezer.
Çiğ Köfte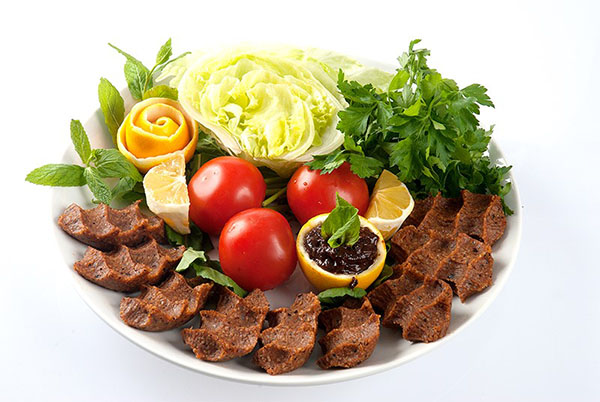 Materials
• 8 people for raw meat
• 4 cups fine bulgur
• 500 grams of crushed (or shot in the mixer) lean dark meat
• 6 tablespoons dry Chipotle peppers
• 1 teaspoon of salt, some black pepper
• 8-10 scallions
• 1 onion
• 1 clove garlic
• 1 bunch parsley
• 1 teaspoon tomato paste
• Half of lemon juice

Preparation
Carefully soak for thirty minutes, leaving them holding small fine cracked bulgur drawn into a vehicle. Parsley, chopped onions after dedicating a little small side. Onion, ground beef, chili pepper, cumin, pepper paste, tomato paste, pepper and salt in a deep bowl mix your mortar and fine cracked by separating the mixing process after completing the fine bulgur add Let's continue kneading. If you have problems, let's continue kneading consistency by adding parsley if Reddel arrangement that can add tomatoes and continue to enjoy continuous kneading and let us check in to let your palate has a lingering taste of food, although very tiring. Serve with buttermilk and turnip juice. ..